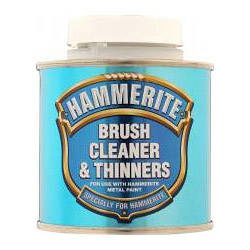 Add To Basket:
Features:
Due to the unique formulation of Hammerite Paints, brushes and equipment must be cleaned with Hammerite Brush Cleaner & Thinners
As well as cleaning brushes and equipment it will remove dirt, grim, salt and loose rust from metal surfaces
Thins Hammerite P
Found this product cheaper elsewhere?
We check 100's of prices daily to bring you consistently low prices and best value. We're confident you can't beat our price but if you think another company has, let us know and we'll do our best to beat their offer.
Do you have a query?
If you have any questions, or need more information, please get in touch and we'll get back to you as soon as possible.